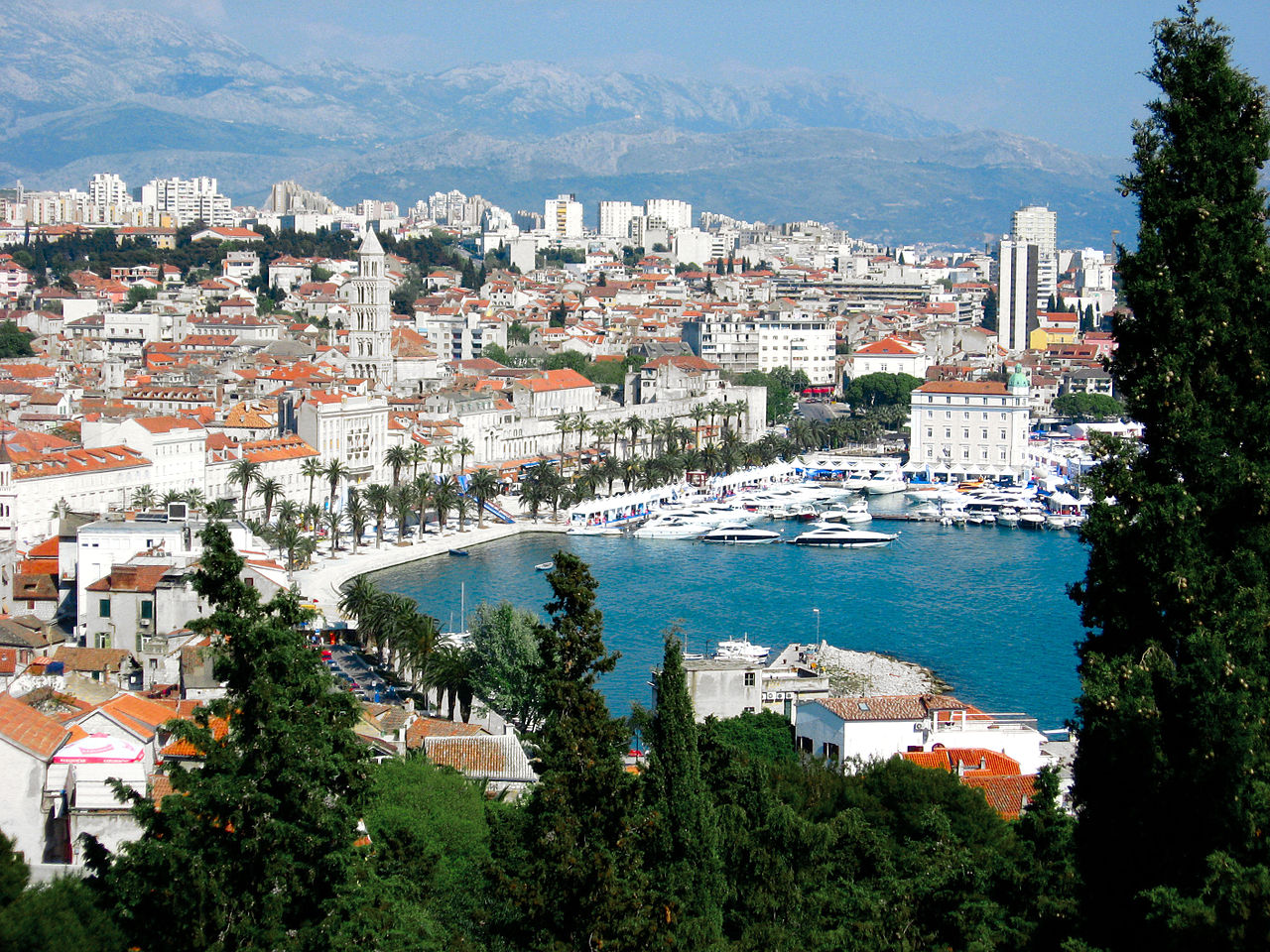 At its core Split is a true Mediterranean town, vibrant, colourful and charming. As the second largest city in Croatia it's diverse enough for everyone to find something to fall in love with. Here is a list of five things that we love about Split and think are an absolute must-do.
1. Diocletian's Palace
Though this impressive UNESCO world heritage site is almost 2000 years old, it still stays strong and full of life. It was built by the Roman emperor Diocletian, supposedly as his retirement home and can be entered through four town gates: the Bronze, Golden, Silver and Iron. It should be noted that many people expect something else when they come and are surprised to realize that the Palace is actually taking up the most part of the old town. In a way it's a "living museum" which stands both as an exceptional historical site and the heart of modern Split and its everyday life.
There are many special areas to visit within the Palace but you'll soon realize that at every corner, street or square you can actually witness how layers and layers of centuries left their mark. So our advice is: just allow yourself to get lost in the Diocletian's Palace. Feel the pulse of the city and spend a day wandering its labyrinth of cobbled streets and narrow allies dotted with art galleries, coffee shops and charming little restaurants.
2. Marjan Hill
Marjan Hill is often referred to as the lungs of Split. And it's no wonder because this green gem overlooking the city is just a 10 minute walk from the city centre. To be honest there are lots of stairs you need to climb to reach the top, but it's definitely worth it. From the top you get the most amazing views of the city and the surrounding islands. There is café at the top so you can relax and enjoy the views while beating the summer heat with a refreshing cold drink.
If you're more of an active type of person you can take a walk from there all around the park. It's good to know that there are stops with fresh water and many different paths and trails you can enjoy. Marjan is a perfect place to get away from the crowds and the buzz of the old town. You can rent a bike or go hiking and jogging, or you can just relax among the pine trees. Keep in mind Marjan is also home to some of the best beaches in Split, especially if you're looking for those with natural shade.
3. Riva Promenade
Riva is actually a long promenade between the Diocletian's Palace and the harbour, and it's one of the favourite pastimes for the locals to meet there. Dotted with cafes, bars and restaurants it's an area full of activity all day long. It's probably the most popular choice for your morning or afternoon coffee. If you want to blend in with the locals, just sit there and relax. Take in the atmosphere, sip on your coffee, watch the people passing by and the boats coming and going.
As the evening approaches things start to become busier and more vibrant, and Riva turns into a hive of activity. Depending on the day there will be live music, all kinds of street performers, stalls with local produce etc. So be sure to take an evening stroll along the promenade, treat yourself with a glass of wine or a cocktail and there's no doubt you'll soon experience firsthand why the locals love Riva so much.
4. Green Market – Pazar
Just outside the walls of Diocletian's Palace you'll find the city's main green market – locally known as Pazar. For many people this foodie heaven is a colourful and vibrant soul of Split. You'll find local people selling fresh fruit, vegetables, local cheeses, cured meats, pastries and flowers. But most of all you'll find a lovely atmosphere full of life and activity.
Be sure to take your time and wander around the market. Enjoy the buzz, the voices, the colours and smells of the fresh produce. Finally, grab some seasonal fruit before you continue to explore the rest of the city center – maybe you can even try to bargain with the sellers (hint: the prices are not fixed).
5. Statue of Grgur Ninski
One thing is certain, be sure not to leave Split without seeing the statue of Gregory of Nin (Grgur Ninski in Croatian). Why is this statue to important you might ask – well there are several reasons but the most important one is – it brings luck  The legend goes that when you pass the statue you should make a wish and rub Gregory's big toe, and your wish will come true. Whether this is true or not we don't know, but you'll easily notice the toe is shining from all the people rubbing it over the years.
If not for luck come and see the statue for its beauty. It's situated just of the Golden Gate and it is work of renowned Croatian 20th century sculptor Ivan Meštrović.
https://www.theviewluxuryrooms.com/wp-content/uploads/2017/05/Split_-_pogled_na_rivu.jpg
960
1280
theview
https://www.theviewluxuryrooms.com/wp-content/uploads/2018/01/logo-theview-black.png
theview
2017-05-30 16:38:36
2017-05-30 16:38:36
Split, Croatia – Top 5 Things to See and Do